Paragraphs
Headline (optional)
Collection Stations: Tools for Collecting Plastic Waste
Image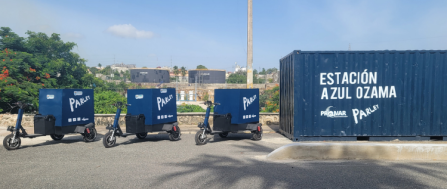 Fact Items
Text (optional)
Guide with practical examples, based on national experiences.
Text (optional)
Preventive Action and Waste Management
Headline
Users of the Tool
Text (optional)
Local governments, municipalities and NGOs
Headline
Objectives and Expected Outcomes
Text (optional)
Introduce users to the concept of collection containers as structures for the collection and sorting of plastic waste, including educational material to sensitize, build capacity and raise community awareness of waste management. This document will guide stakeholders through the entire process of preparation, implementation and continued operation using success stories as a guide.
Headline
Functional Description and Instructions
Text (optional)
This tool breaks down the necessary management for the implementation of Collection Containers, as well as its continuity of operation.
Collection Containers are modular container structures consisting of a 40-foot container and a 20-foot container where people will be able to deposit their plastic waste. The structures serve as collection, sorting, and education sites for the community. They are energy independent, with a solar panel roof, and include sorting equipment, as well as electric motorcycles that offer door-to-door collection route service.